______________________________________________________________
Table Massage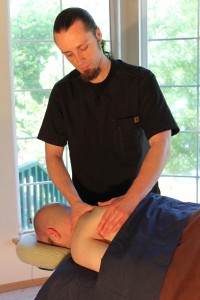 Table massage places the client in a fully horizontal position, allowing the therapist to treat all areas of the body.  This is an extremely versatile type of massage and has incredible therapeutic benefits to the muscles, lymphatic system and circulatory system.
These treatments typically last between an hour and two hours and can range from focused treatment work that addresses specific areas of pain, postural imbalance or discomfort to full body work that helps to bring the body back to a state of homeostasis and relieving overall tension.
Prior to each session we will discuss your specific goals and determine how best to meet your specific needs.  This may include range of motion testing, setting functional goals and discussing the type of work and the depth of pressure that is preferred.
| | | | |
| --- | --- | --- | --- |
| | | Time of Service Payment |   |
| 60 Minutes | | $100 | |
| 90 Minutes | | $150 | |
| 120 Minutes | | $200 | |
Chair Massage
Utilizing a mobile massage chair that cradles the client in a seated position, this is ideal for treating the back, neck and shoulder regions, as well as the arms and hands. These areas are of particular importance for office workers and anyone who uses a computer on a daily basis. These treatments are most typically done in offices or public places and last from 10-15 minutes per session, making them ideal for a workplace sponsored event. I have a minimum requirement of 2 hours per visit with chair massage.
$100.00 per hour
Intraoral Massage
Intraoral work is a very specific treatment that occurs largely inside of the mouth. This modality can be combined with table massage and is focused on addressing the muscles of the jaw and anterior neck and is helpful in relieving symptoms that may be associated with conditions such as TMJD as well as certain types of headaches and generalized neck and jaw tension.
I use hypoallergenic, sanitary nitrile gloves for all treatments performed inside the mouth and follow all applicable safety regulations.
Due to Covid, I am temporarily not offering any Intraoral treatments.


LMT #MA 60177126